6 Secrets for GOB sales that you need to know
You could be saving even more.
Last week, Delia's, RUUM and Sears announced that they will be closing stores. For those of us familiar with the brand, it's sad news. As you can imagine, the reason Delia's is closing its doors is because it's not a hot brand for the latest tween/teen generation. They have moved on to brands like H&M and Forever 21. And they aren't the only brands that are in trouble; Abercrombie and Fitch and Aeropostale just announced declining sales as well.


As the list of retail brands going out of business grows and everything-must-go sale signs clutter street corners, it's easy to get caught up in the illusion of rock bottom deals. But "going out of business" sales can be some of the worst places to shop for deals, so it's important to know the pitfalls.
There are still ways to get a deal, here are six tips to making a liquidation sale work for you.
1. Make sure it's a bargain
Even though everything in the store will be marked "on sale", it's important to remember your YAY! Savings training. Don't assume everything is a good deal because they have to get rid of it. Compare prices and make sure the discount is at least 40% off. This isn't the time to trust you're getting a good deal -- historical data shows that some of the liquidation sales offered discounts that were less than those during a typical sale. Also, don't lose site of the fact that this company has to get rid of everything, so patience can pay off. Unless it's an item you can't live without, wait for the discounts to get even better the closer the store gets to closing its doors.
2. Ask who is managing the sale
If the retailer is handling the liquidation sale, the deals will likely be better. But if the chain has contracted out the sale to one of the handful of for-profit liquidators, steer clear. Liquidators have a tried-and-true formula for creating impulse buys and seek only to maximize profits. They often make pricing and discounts confusing.
3.Avoid impulse buying
We all get excited when we see a deal and tend to put everything in sight in our cart (I know I am tempted to). Another question to ask yourself before you put anything in your "must have" pile - Do I really need this? If you set a budget even before walking into the madness of liquidation sales, you're less likely to succumb to a bad deal or overspending.
4.Check the item you're buying thoroughly
This is another really important item for your check list. Be sure to check everything you're planning on buying to make sure it's in working order, doesn't have rips or stains and is the right size. Remember, in as little as 30 to 60 days, the doors will be closed and the store empty. So if it's damaged or doesn't work, you're stuck with it.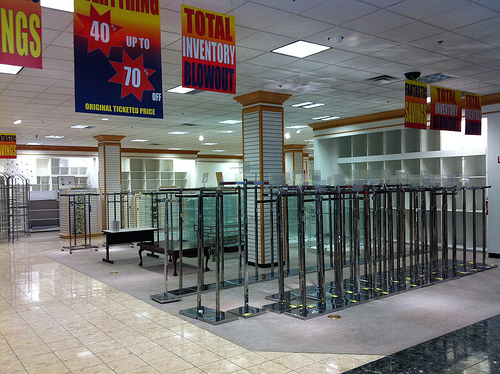 5.Pay with a credit card
Most credit cards have buyer protection programs that protect your purchases. Before you head off to a liquidation sale, do your homework. Make sure you understand whether or not your credit card offers this type of program and the specfics of it. With a lot of credit cards, if you can't return your item, paying with a credit card can give you more options. In fact, the BBB recommends consumers avoid paying with cash or check at liquidation sales and strictly use credit cards.
Using a credit card provides you with an extra level of protection because if the item you purchased is damaged and you can't return it, you can work toward getting your money back by disputing the charge with the credit card company.
6.Haggle
Haggling can be hit or miss at going out of business sales, but it never hurts to try. If you do your homework beforehand by comparison shopping online, you could increase your negotiating power with price information from Websites with similar merchandise or at retail stores that aren't going out of business. YAY! Savings members know checking online for a better deal is critical!
Facebook Conversations
---